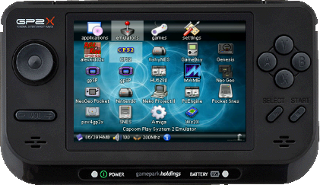 GMenu2X is a frontend application targeted at embedded devices, originally developed for the GP2X and successively ported to other devices.
GMenu2X provides an easy to use interface with quick access to the games and applications of the device trough links similar to those found on PC's desktops.
Its interface is fully customizable with skins.
Other features include: built-in selector for emulators, manuals and readmes integration, built-in overclocker, gamma and volume configuration, ram timings tweaker.
Installation
Copy the file autorun.gpu on the root of your SD card along with the gmenu2x directory. Check that the autorun option is enabled on your GP2X. Create the links and enjoy your GP2X.
Download GMenu2X
Getting the latest revision
You can try to compile the source from the git repository. This is usually not recommended if precompiled packages are available, but you may give it a try if you cannot wait for the latest feature to come out or if you experience problems that may have been fixed it the repository.
Reporting Bugs
Before reporting a bug, check the troubleshooting section and the bugs already reported to see if you are experiencing a known problem. If this is not the case, report the bug in the dedicated bug tracking system.
Donate
GMenu2X is free (as in freedom) software. This means that its source code is available for everyone to download, modify and redistribute as stated by the GPL-v2 license.
If you like this software, please consider making a donation to show your support.